Research

Contact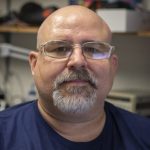 Ken Premo
261 Glenbrook Road
Castleman, Room 126
Storrs, CT 06269
Phone: 860 486-2255
Contact: kenneth.premo@uconn.edu
Research
We specialize in supporting Research Projects!
Please don't hesitate to invite us to participate in any phase of your project; beginning, middle, end…
Maximize collaboration. The University is full of experts, and we can help get you in touch with them.
Bring ALL your questions and concerns. If we can't help, we'll find someone who can!