Trucks
Box Truck
The box truck has the following capabilities: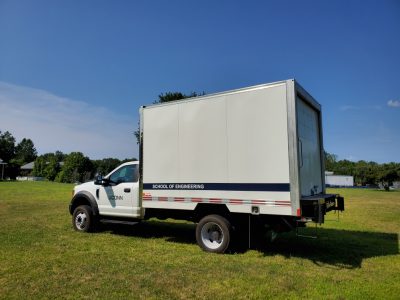 Maximum gross weight: 16,500 lbs
Maximum payload weight is being measured soon, please check back
Lift gate payload: 1,600 lbs
Pickup Truck
Chevrolet Silverado 2500 pickup truck with the following capabilities: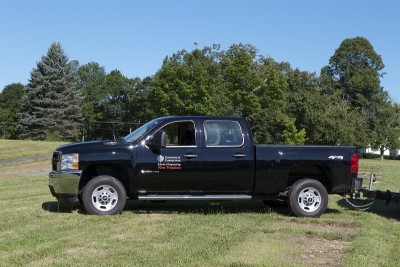 Total weight of cargo and passengers: 2,948 lbs
Total towing: 10,000 lbs
Tongue weight: 1,500 lbs
Hitch ball size: 2-5/16"
Trailer
The trailer is for the exclusive use by Mechanical Engineering Department undergraduate activities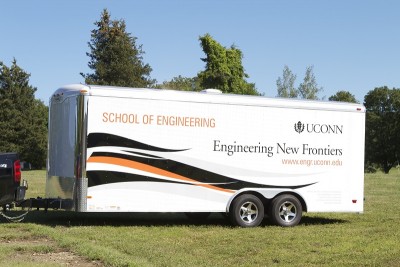 Can haul up to 10,000 lbs.

Cannot be towed by the box truck
Rules for Truck Use
General Rules
Vehicle must be used for official university business
Avoid the use of the trailer for liquids that can spill.
Avoid the use of the trailer for hauling discarded furniture, equipment etc.
Drivers must

be a student, faculty, or staff member of UConn,
be a member of a recognized club or on the University payroll,
hold a valid driver's license (copy will be kept on file),
sign and record mileage in a binder at the help desk,
be approved by the department head

Users are responsible for

cleaning after use,
damages incurred,
keys issued

Students must read the University's Driving and Motor Vehicle Policies policy, including the transfer of bio fuels.
If traveling out of state, additional preparation may be required. Talk to your department's administrative person for details.
A faculty member email, acknowledging the trip, name of student(s), date of trip, date of travel, purpose of the travel, and the confirmation that the individual (s) is/are on the University payroll, must remain on file.
If the individual is using the vehicles for the UConn Racing Team, they must read and agree

 

to these terms

 

provided by the State of Connecticut Director of Insurance and Risk Management.
Covid-19 Precautions
Vehicle Use
When possible, limit transport to one employee per vehicle.
If not feasible, no more than two employees assigned to a vehicle, assign one driver and one passenger for the day. Do not switch positions during the reservation.
Prior to vehicle use at the beginning of the reservation, disinfect interior surfaces and door handles (see below). Wash hands prior to driving the vehicle.
Wear face coverings at all times in the vehicle
Avoid touching eyes, face or face covering; make sure to wash hands before & after contact
If possible, leave windows open during travel.

 

Do not put cabin on recirculated air.
No eating, drinking, or smoking while in the vehicle.
If two people will be in the vehicle, minimize time within the vehicle; do not take breaks in vehicle; do not complete paperwork or log work orders while in the vehicle.
Wash hands often. Hand sanitizers can be used when soap and water aren't available, but they are not a substitute for handwashing.
At the end of the reservation, or whenever there will be a change in occupants, the vehicle must be disinfected.
Cleaning/Disinfecting
Doors and windows should remain open when cleaning and disinfecting the vehicle.
At a minimum, clean and disinfect commonly touched surfaces in the vehicle at the beginning and end of each reservation. Include surfaces such as hard seats, armrests, door handles, seat belt buckles, light, and air controls, doors and windows, radio controls, turn signals, steering wheel, gear shifts, joysticks and control columns, bucket/boom controls, tailgates, mirrors and grab handles. Consider what items can be moved or removed completely to reduce frequent handling or contact from multiple people.
Keys and fobs must also be disinfected after use prior to being returned.
Ensure that cleaning and disinfection procedures are followed consistently and correctly, including the provision of adequate ventilation when chemicals are in use.
Dependent upon disinfectant used, know the appropriate necessary dwell times. These are times the solution must sit on the surface to achieve disinfection. This can vary depending upon the product, upwards of 10 minutes.
Once completed, remove soiled PPE such as gloves and wash hands with soap and water for at least 20 seconds. Dispose of all used items in proper receptacle.
Parking
Parking under campus trees, or on lawns, sidewalks and unpaved surfaces outside designated parking areas, is strictly prohibited by University policy.
Last year, Parking Services cited (ticketed) 1,173 vehicles in violation of this policy, including many repeat offenders undeterred by enforcement efforts.
Parking Services is authorized to

 

cite and/or tow a vehicle upon its first offence.
The owner of the vehicle will be responsible for the payment of all fees and fines associated with enforcement of the policy, and the University will bear no responsibility for any negative impacts related to enforcement measures.
Contact George Assard at engr-ets-vehicles@365.uconn.edu or 860-486-5305 with questions.