Trucks
Box Truck
The box truck has the following capabilities: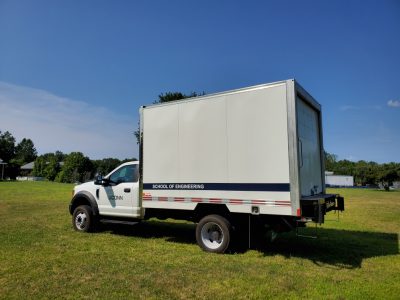 Maximum gross weight: 16,500 lbs
Maximum payload weight is being measured soon, please check back
Lift gate payload: 1,600 lbs
Pickup Truck
Chevrolet Silverado 2500 pickup truck with the following capabilities: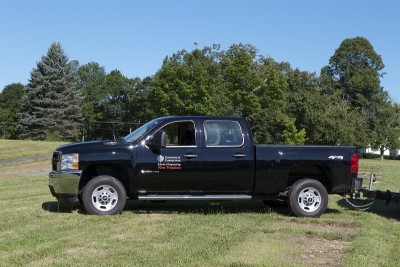 Total weight of cargo and passengers: 2,948 lbs
Total towing: 10,000 lbs
Tongue weight: 1,500 lbs
Hitch ball size: 2-5/16"
Trailer
The trailer is for the exclusive use by Mechanical Engineering Department undergraduate activities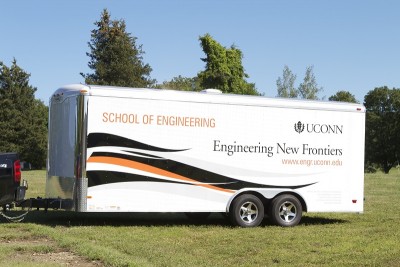 Can haul up to 10,000 lbs.

Cannot be towed by the box truck
Rules for Truck Use
General Rules
Vehicle must be used for official university business
Avoid the use of the trailer for liquids that can spill.
Avoid the use of the trailer for hauling discarded furniture, equipment etc.
Drivers must

be a student, faculty, or staff member of UConn,
be a member of a recognized club or on the University payroll,
hold a valid driver's license (copy will be kept on file),
sign and record mileage in a binder at the help desk,
be approved by the department head

Users are responsible for

cleaning after use,
damages incurred,
keys issued

Students must read the University's Driving and Motor Vehicle Policies policy, including the transfer of bio fuels.
If traveling out of state, additional preparation may be required. Talk to your department's administrative person for details.
A faculty member email, acknowledging the trip, name of student(s), date of trip, date of travel, purpose of the travel, and the confirmation that the individual (s) is/are on the University payroll, must remain on file.
If the individual is using the vehicles for the UConn Racing Team, they must read and agree

 

to these terms

 

provided by the State of Connecticut Director of Insurance and Risk Management.
Parking
Parking under campus trees, or on lawns, sidewalks and unpaved surfaces outside designated parking areas, is strictly prohibited by University policy.
Last year, Parking Services cited (ticketed) 1,173 vehicles in violation of this policy, including many repeat offenders undeterred by enforcement efforts.
Parking Services is authorized to

 

cite and/or tow a vehicle upon its first offence.
The owner of the vehicle will be responsible for the payment of all fees and fines associated with enforcement of the policy, and the University will bear no responsibility for any negative impacts related to enforcement measures.
Contact George Assard at engr-ets-vehicles@365.uconn.edu or 860-486-5305 with questions.