Our help desk provides hardware and software support for all faculty, staff, and students in the School of Engineering. Feel free to contact us with any computer related questions.
Covid 19 PrecautionsDue to current situation and since we most likely working from home until needed , we have sat up a drop off station. Please follow the instruction below to use our drop off station.
You must have an appointment to use our drop off station!
Disinfect your device and notify us when you are at the drop off station.
Do not leave anything at drop off station, we are not responsible for any item that left without an appointment and the owner info.
For appointment, call 860-486-1821 or Email soehelp@uconn.edu
Services
The primary functions of the help desk are:
Computer hardware maintenance and troubleshooting
Accounts
Learning centers, for more information visit visit our learning centers page.
Software installation requests. See the Software page for a list of available software.
Poster Printing. Free poster printing for senior design and other engineering student projects.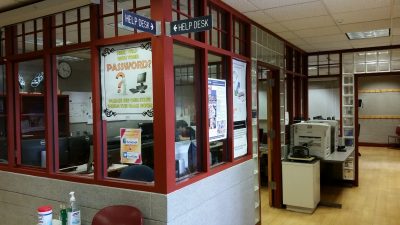 Location
Engineering II room 306
Hours of Operation
Monday - Friday, 8 AM - 4 PM
Departmental IT Staff
Each department has IT personnel that can provide hands-on technical help. See the list of departmental staff.
Help Desk Tickets
The help desk uses the Helpspot ticketing system to ensure that issues are resolved in a timely manner.
You can create a ticket by emailing soehelp@uconn.edu or filling out our online Help Desk Ticket form